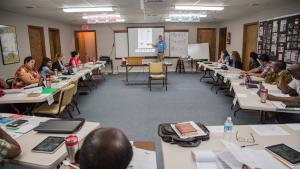 "Equipping the Church…"
Drawing upon 50 years of history, LEI's training incorporates years of valuable experience from literacy and English language classes around the world. LEI equips the Church through a variety of literacy and English language training events. 
RLTI
Regional Literacy Training Institutes (RLTIs) are condensed literacy training events conducted in various locations around the world at different times of the year. These trainings may offer a more cost-effective and convenient training option and are sometimes conducted in regional trade languages.
Local Training
LEI missionaries around the world are available to conduct local literacy or ESL training events in coordination with your church, mission or NGO upon request.
Distance Learning
LEI offers instructor-led online training classes and a growing library of training content.  If you cannot attend training in person, or just want to refresh and improve your learning, please use our resources.
Register for online courses by clicking here.
View upcoming LEI training events below: